We sell high quality CNC milling machines,
TMG 1325
Working field 1300x2500mm
Height by Z - 300mm
Stepper motors
Spindle 4.5 kW air cooling
Vacuum T-shaped table
Heavy table, around 1500kg, which contributes to the absence of vibration, and unlike cheap machines you will receive very high quality products.
Light machine tools are not designed for quick work. You can always come to our production and see the machines at work.
Available in our stock.
The video of our machine is on the link https://youtu.be/uCLhkvtG8k8
A CNC woodworking machine can milling, engraving, cutting various materials. The main directions in the application of the machine:
advertising industry, marking, processing of small dies, molds, the production of doors, art products, precise machining operations in various industries,
etc. with the use of blanks from materials such as: non-ferrous metals, plates made of carbon, glass, stone, incl. synthetic, wood, particleboard,
MDF, and plywood, plastic and its derivatives: acrylic, polyvinyl chloride, polystyrene and the like.
Technical specifications:
| | |
| --- | --- |
| NAME | SPECIFICATIONS |
| Area size | 1300 * 2500 * 300mm |
| Desktop Type | T-vacuum table |
| Max. speed of free movement, mm / min | 25000 |
| Maximum working speed, mm / min. | 15000 |
| Accuracy, mm | <0.005 |
| Transmission type X Y | gear bevel gear transmission |
| Transmission type Z | ball screw |
| Drive motor type and driver | Stepper motors and Leadshine MA860 |
| Spindle rotation frequency, rpm | 0-18000 |
| Spindle cooling | 4.5 kw air cooling |
| Name of inverter | DELTA (American inverter) |
| Control system | DSP remote control Weihong NK105 |
| Sensor for measuring tool length | There is (option) |
| terms of Use | Humidity: 30% - 75%, temperature: 0 - 45 ° |
| Machine Net Weight | 1400 kg |
| Warranty period | 12 months |
PHOTO MACHINE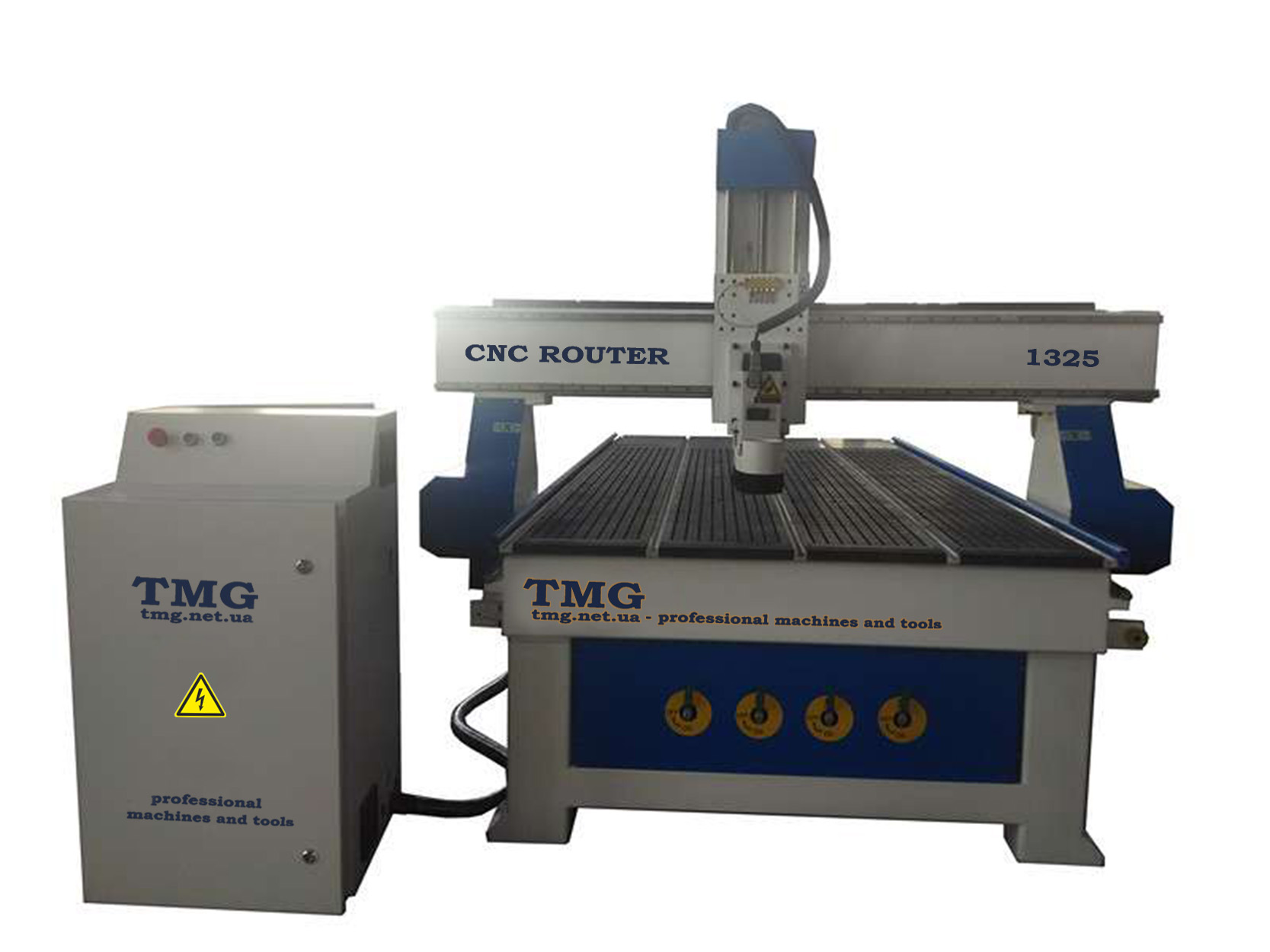 Фрезерный станок с ЧПУ по дереву, пластику и цветным металлам
Product Code: TMG 1325
Availability: In Stock